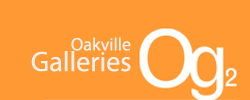 JOB POSTING – ART INSTRUCTOR
Terms: Occasional part-time
Start Date: 7 September 2011
Salary Level: $18 to $30/hour
Language of work: English
Oakville Galleries is a leading public art museum where contemporary art is the impetus for stimulating thought, shifting perspectives and inspiring engagement. Through two sites, the Galleries serve communities in Oakville, Halton Region and wider audiences nationally and internationally. We are currently looking for an Art Instructor to
add to our dynamic education team.
Nature and Scope of Position
Reporting to the Education Coordinator, the Art Instructor prepares and delivers a wide range of art-based activities to children, youth, adults and seniors that participate in Oakville Galleries' art classes, school programs and community-based art programs. The wage for this position varies from $18.00 to $30.00/hour, depending on the program being delivered. Hours include some evenings and weekends.
Application deadline: 15 August 2011
More information about the position and application requirements can be found here.
Additionally, there is a part-time Bilingual Art Instructor (English & French) position avaialable, starting September 7th, 2011. All specifications and requirements parallel the English Instructor position.