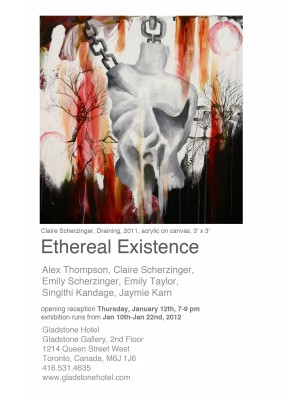 "Magic Realism is commonly used as a term to describe an aesthetic style of fiction where magic and mythology blends with the real world. Showing in the Gladstone Gallery, the artists in Ethereal Existence use their work to show this concept, usually reserved for fiction, in a visual format. Their drawings, paintings, photographs, illustrations and prints show the darker side of reality, depicting scenes from everyday life to the mythological and where the two meet."
Showing at the Gladstone Gallery from January 10th to January 22nd, 2012.
Opening Reception: Thursday January 12, 2012 from 7pm to 10pm.